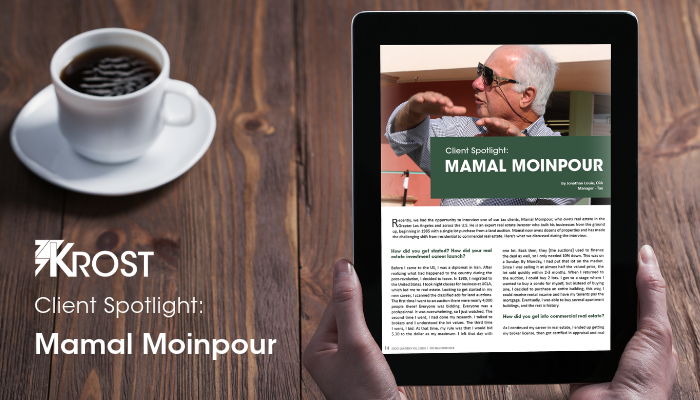 Below is a preview of one of the articles in the new KROST QUARTERLY Real Estate Issue, titled Client Spotlight: Mamal Moinpour by Jonathan Louie, CPA.
Recently, we had the opportunity to interview one of our tax clients, Mamal Moinpour, who owns real estate in the Greater Los Angeles and across the U.S. He is an expert real estate investor who built his businesses from the ground up, beginning in 1985 with a single lot purchase from a land auction. Mamal now owns dozens of properties and has made the challenging shift from residential to commercial real estate. Here's what we discussed during the interview:
How did you get started? How did your real estate investment career launch?
Before I came to the US, I was a diplomat in Iran. After realizing what had happened to the country during the post-revolution, I decided to leave. In 1985, I migrated to the United States. I took night classes for business at UCLA, which led me to real estate. Looking to get started in my new career, I scanned the classified ads for land auctions. The first time I went to an auction there were nearly 4,000 people there! Everyone was bidding. Everyone was a professional. It was overwhelming, so I just watched. The second time I went, I had done my research. I talked to brokers and I understood the lot values. The third time I went, I bid. At that time, my rule was that...
Click below to read more on Mamal Moinpour
Get Access
Enjoy this and other exclusive content from KROST.
KROST Quarterly is a digital publication that highlights some of the hot topics in the accounting and finance industry. Volume 2, Issue 1 covers real estate trends and news including Opportunity Zones, Delaware Statutory Trusts, Cost Segregation, 1031 Exchange, Green Building Tax Incentives, and Qualified Improvement Property.