Below is a preview of one of the articles in the new issue, "Trade Wars: A Whole New World" by Keith Hamasaki, CPA.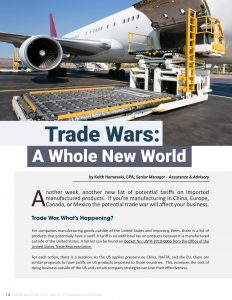 Trade Wars: A Whole New World
Another week, another new list of potential tariffs on imported manufactured products. If you're manufacturing in China, Europe, Canada, or Mexico the potential trade war will affect your business. For companies manufacturing goods outside of the United States and importing them, there is a list of products that potentially have a tariff. A tariff is an additional tax on products because it is manufactured outside of the United States. A full list can be found on Docket No. USTR-2018-0005 from the Office of the United States Trade Representative. For each action, there is a reaction. As the US applies pressure on China, NAFTA, and the EU, there are similar proposals to have tariffs on US products imported to those countries. This increases the cost of doing business outside of the US and certain company strategies can lose their effectiveness...
Subscribe below to read more on Trade Wars
Get Access
Enjoy this and other exclusive content by subscribing to KROST.
KROST Quarterly is a digital publication that highlights some of the hot topics in the accounting and finance industry. Issue 1, Volume 2 covers manufacturing trends and news including cybersecurity, tax benefits and incentives, and technological advances in manufacturing.