---
Areas of Expertise
• Tax
• Tax Controversy
Christopher H. Gaynor, CPA, MS
PRINCIPAL - TAX
Chris Gaynor, CPA, is a Principal of KROST. His level of expertise ranges from retirement planning to tax controversy. Chris has successfully performed hundreds of tax audits during his career.
Chris earned his undergraduate degree in political science at UCLA, and then finished his formal education with a Master of Science in Accounting at California State University, Northridge.
Chris resides in Pacific Palisades with his wife Rose. They have two children, Nicole and Scott.
Professional Experience
• KROST, Principal (2019 – Present)
• Gaynor & Umanoff, Partner (2005-2018)
• Gaynor, Handelman & Gaynor, Partner (1978-2004)
• Price Waterhouse (1975-1977)
Education
• Master of Science Emphasis in Business Administration and Accounting, California State University at Northridge
• Bachelor of Arts Emphasis in Political Science, University of California at Los Angeles
Professional Affiliations
• Member of California Society of CPAs (1978-Present)
• Member of American Institute of CPAs (1984-Present)
• Conference planning committee for UCLA annual Tax controversy conference
Extracurricular Activities
• Member of The Westwood Village Rotary
• President of The Westwood Village Rotary Club (1993-1994)
• Extensive Foreign Travel
• Tennis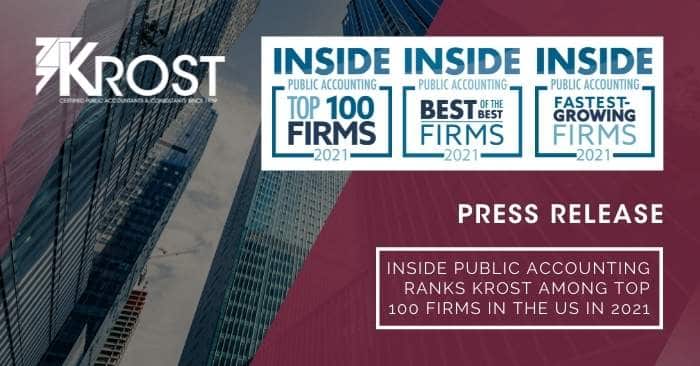 Pasadena, CA– INSIDE Public Accounting (IPA) named KROST CPAs & Consultants Top 100 Firm, Top 100 Fastest-Growing Organic Growth Firm, Top 100 Fastest-Growing All Growth, and best of the best in 2021. The firm placed 81st on the prestigious top 100 list, a substantial leap from 116th in 2020. KROST along with other recipients of Read the full article…
Ready to talk to one of our specialists?
Reach out to us today. Our highly experienced specialists will be happy to assist you.