David Troost, CPA
SENIOR MANAGER - TAX
David has spent his career being a client advocate. As a trusted business partner to his clients, he has helped them meet their objectives by serving as a sounding board for decisions. Prior to KROST, David focused his time on assisting emerging and middle-market clients with a variety of their needs from both a tax and audit perspective as a key member of a boutique Los Angeles firm.
David's area of expertise includes federal and multi-state tax compliance and consulting for individuals, partnerships, and corporations. He services clients in various industries, including but not limited to real estate, mortgage banking, legal, and high-tech industries. He has extensive knowledge and experience dealing with multi-state partnership issues, tax-related aspects of 1031 exchange issues, and tax issues concerning mergers and acquisitions.
Professional Experience
• Bachelor of Science in Business Administration with an emphasis in Accounting, San Diego State University
Professional Affiliations
• Member of AICPA
• Member of CalCPA
Extracurricular Activities
• Treasurer and Board Member, Bridge to Home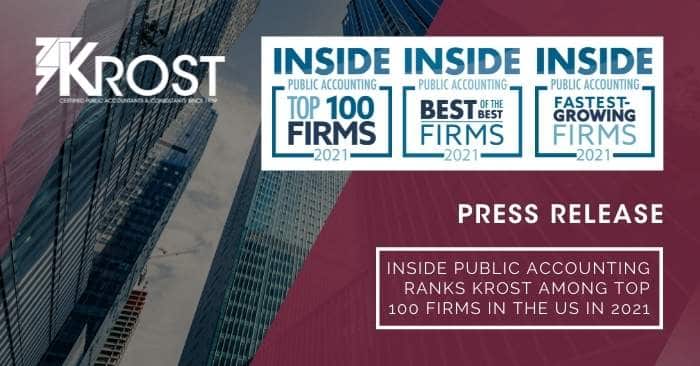 Pasadena, CA– INSIDE Public Accounting (IPA) named KROST CPAs & Consultants Top 100 Firm, Top 100 Fastest-Growing Organic Growth Firm, Top 100 Fastest-Growing All Growth, and best of the best in 2021. The firm placed 81st on the prestigious top 100 list, a substantial leap from 116th in 2020. KROST along with other recipients of Read the full article…
Ready to talk to one of our specialists?
Reach out to us today. Our highly experienced specialists will be happy to assist you.