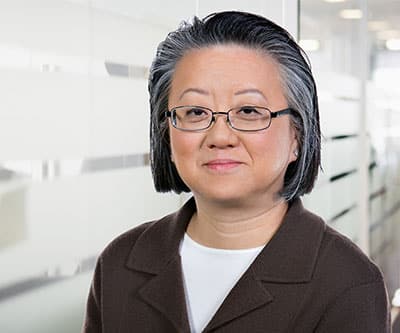 Elizabeth Hugh, CPA
CHIEF OPERATING OFFICER
Elizabeth Hugh is the Chief Operating Officer at KROST. Elizabeth has 20 plus years of CPA firm management experience. As the COO, she is responsible for the daily operations of the firm which includes the policies and procedures to improve client services. She is also responsible for all recruiting activities, mentoring programs, and training programs – all important facets to better service our clients.
Prior to joining KROST, Elizabeth worked with Green Hasson Janks LLP (GHJ) as an Administrative Partner and worked with a select group of privately held businesses on a day to day basis. At GHJ, she launched the firm's recruiting practice and oversaw its Business Management practice. She is a member of the American Institute of Certified Public Accountants and BeachNet, a professional networking group. She has participated in various MAP committee meetings along with Westside/San Fernando Valley Administrative Groups.
Active in her community, Elizabeth has been involved in fundraising for Manhattan Beach Chamber of Commerce (Women in Business Committee) and is a former board member. She also partakes in various projects at TreePeople, the Union Rescue Mission, the LA Conservation Corps and continues to be a mentor to many accounting professionals.
Education
Business Administration with Emphasis in Accounting, California State University, Northridge
Professional Affiliations
Member of the MAP Committee
Member of American Institute of Certified Public Accountants (AICPA)
Member of California Society of Certified Public Accountants (CalCPA)
Ready to talk to one of our specialists?
Reach out to us today. Our highly experienced specialists will be happy to assist you.