Gregory A. Kniss, CPA
MANAGING PRINCIPAL
Gregory Kniss, CPA, is Managing Principal of KROST. Greg has been actively involved with the firm's business consulting and tax practice for over 37 years.
Early in his career, Greg expanded and later became the Principal in charge of the firm's restaurant industry practice. Over the years, it became the firm's largest industry niche. Today, the restaurant group does outsourced accounting, financial, tax and operational consulting for restaurant companies in several states. In 2001, he introduced the tax concept of Cost Segregation to the Principal group and established a separate tax consulting practice. Today, KBKG is a national tax consulting practice providing specialty tax services, including Cost Segregation, Research and Development tax credits, Green Building tax incentives, employment tax credit consulting, Repairs vs Capitalization consulting, IC-DISC consulting, and Section 199 consulting to clients around the country.
Currently, Greg is the Managing Principal of KROST and its sister company KBKG with 14 Principals and approximately 150 total team members in (8) eight offices around the country (Pasadena, CA, Woodland Hills, CA, Valencia, CA, West Los Angeles, CA, New York City, Chicago, Dallas, and Atlanta).
He received his Bachelor's Degree in Business Administration with an emphasis in Accounting from California Lutheran University in 1983 while working his internship with the firm.
Professional Experience
• KROST & KBKG, Managing Principal (2009 – Present)
• KBKG, Principal (2001)
• KROST, Principal (1989)
• KROST, Manager (1987 – 1989)
• KKB, Staff (1982 – 1987)
Professional Affiliations
• Member of California Society of CPAs (1987 – Present)
• Member of American Institute of CPAs (1987 – Present)
• Member of California Restaurant Association (1983 – Present)
• Member of National Restaurant Association (1990 – Present)
Extracurricular Activities
• PrimeGlobal Board of Directors, World Board – Current Member
• PrimeGlobal Board of Directors, North American Region – Current Member
• California Restaurant Association Board of Directors, LA Chapter – Member
Greg's Thought Leadership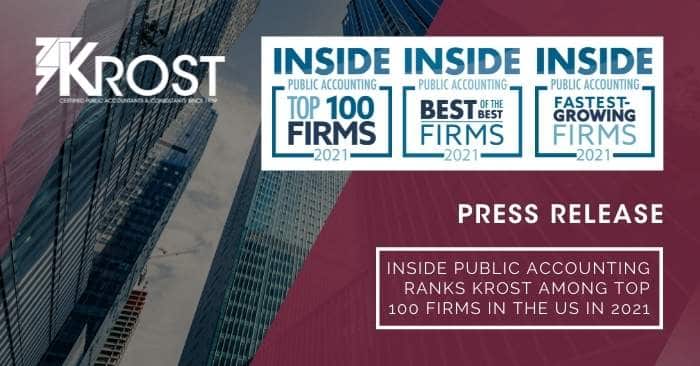 Pasadena, CA– INSIDE Public Accounting (IPA) named KROST CPAs & Consultants Top 100 Firm, Top 100 Fastest-Growing Organic Growth Firm, Top 100 Fastest-Growing All Growth, and best of the best in 2021. The firm placed 81st on the prestigious top 100 list, a substantial leap from 116th in 2020. KROST along with other recipients of Read the full article…
Ready to talk to one of our specialists?
Reach out to us today. Our highly experienced specialists will be happy to assist you.