Natasha Rudnitsky, CPA
SENIOR MANAGER - TAX
Natasha is a Senior Tax Manager at KROST with over 11 years of experience in the public accounting profession. Her areas of expertise include tax planning and compliance for high net worth individuals, pass-through entities, and multi-state taxation.
Natasha received a Bachelor's Degree of Science in Accountancy and Business Administration with an emphasis in Business Law in 2008 from the California State University, Northridge.
Professional Experience
• KROST, Senior Tax Manager
• BPEH, an Accountancy Corporation, Senior Tax Manager (2015-2019)
• Gumbiner Savett, Tax Manager (2008-2015)
Professional Affiliations
• AICPA
• CAlCPA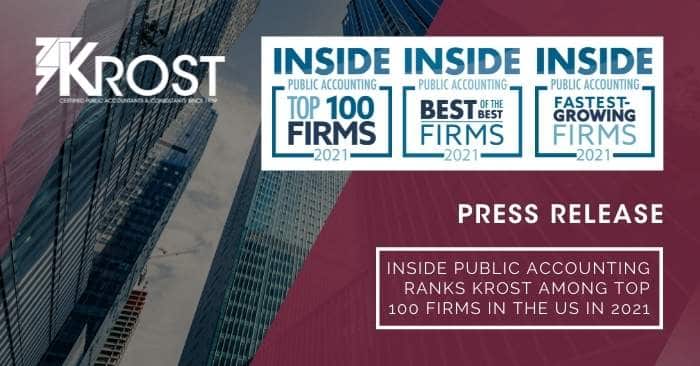 Pasadena, CA– INSIDE Public Accounting (IPA) named KROST CPAs & Consultants Top 100 Firm, Top 100 Fastest-Growing Organic Growth Firm, Top 100 Fastest-Growing All Growth, and best of the best in 2021. The firm placed 81st on the prestigious top 100 list, a substantial leap from 116th in 2020. KROST along with other recipients of Read the full article…
Ready to talk to one of our specialists?
Reach out to us today. Our highly experienced specialists will be happy to assist you.