Paren Knadjian
PRACTICE LEADER - M&A AND CAPITAL MARKETS
TECHNOLOGY INDUSTRY LEADER
Paren is the practice leader of the M&A and Capital Markets group at KROST. He comes with over 15 years of experience in mergers and acquisitions as well as equity and debt financings. In that time, Paren successfully completed over 50 transactions acting as a both a buy-side and sell-side advisor, as well as a broker/dealer.
Paren also has 15 years of experience as a C-Level executive in several high-tech companies. He has been the CEO/COO of two Software as a Service (SaaS) companies in financial services and new media, and he has been the CFO of several companies in healthcare, marketing, e-commerce and film & television. He co-founded two companies that were successfully sold to trade buyers.
Professional Experience
• KROST (October 2017 – Current)
• Acting CFO & M&A Advisor (2016 – September 2017)
• Principal, Lionfish Advisors (2006 – 2016)
• CEO, Actant (2002 - 2006)
• COO, Proof9 (2001 - 2002)
• Co-founder, New Media Network (1998 - 2001)
• Thomson Reuters (1985 - 1998)
Education
• Series 63 and 82 FINRA Securities Licenses
• Bachelor of Science, University of Bristol, UK
• Royal Merchant Naval School, UK
Professional Affiliations
• Registered Broker/Dealer, FINRA
• Association of Corporate Growth
Extracurricular Activities
• Treasurer, Crossroads School of Arts & Science, Santa Monica
Paren's Thought Leadership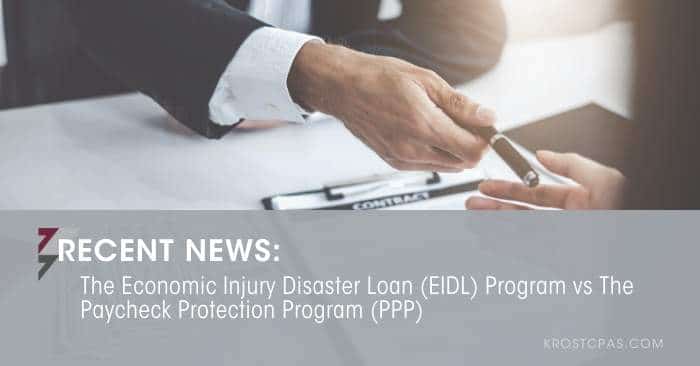 Following the declaration of a national emergency to combat the Coronavirus (COVID-19) pandemic, the Small Business Administration (SBA) launched the Economic Injury Disaster Loan Assistance (EIDL) program for small business owners in all US states, Washington D.C., and other US territories. EIDL loans are now available. In addition to this loan the SBA is offering … Read More
Ready to talk to one of our specialists?
Reach out to us today. Our highly experienced specialists will be happy to assist you.