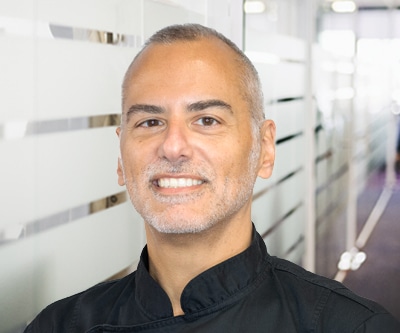 Philip Kastel
RESTAURANT & CULINARY CONSULTANT — RESTAURANT OPERATIONS
As Restaurant & Culinary Consultant at KROST, Executive Chef Phil Kastel, works in partnership with KROST's dedicated restaurant industry experts to serve restauranteurs, owners, and operators. In his role, Chef Kastel provides culinary consulting, executive chef services, project management for restaurant openings, menu development and analysis, food and labor cost analysis, culinary training, and technology systems implementation. In partnership with KROST, Chef Kastel recently re-launched the iconic and nationally recognized MIKLY WAY restaurant in Los Angeles, an institution of the local community for over 35 years.
For over twelve years, Executive Chef Phil Kastel served as Executive Vice President of Culinary for L.A. based Grill Concepts, Inc.; owner and operator of The Grill on the Alley, The Daily Grill and the Public School brands, along with The Ritz Prime Seafood in Newport Beach and Point Restaurants (Laurel Point in Studio City and Wewatta Point in Denver).
As the culinary vision behind the fast-growing Public School gastropubs, Chef Kastel served as the co-creator of the concept that was named 2017 Nation's Restaurant News "Hot Concept" for innovation, rapid emergence in the marketplace, and consumer appeal. Public School, which marks each gastropub by area code suffix for distinction, currently has locations in Downtown Los Angeles (213), Culver City (310), Westlake Village (805), Sherman Oaks (818), Dallas (214), Las Vegas (702), Atlanta (404), Addison (972) and Denver (303). Across all concepts, Chef Kastel was responsible for culinary operations of twenty-nine restaurants nationwide.
Prior to Grill Concepts, Chef Kastel served as Executive Chef of Hillstone Restaurant Group (DBA Houston's, R&D Kitchen, Bandera, Palm Beach Grill, Gulfstream, etc.) where he was responsible for kitchen operations, menu development and training. While at Hillstone, Chef Kastel opened additional locations for each of the brand's chains and developed future management teams for each.
Chef Kastel has appeared on several local, regional, and national talk shows and culinary news segments and has been featured in several publications. The Public School and Laurel Point locations have served as the fundraising ground for The Michael J. Fox Foundation's annual Team Fox 'Raising the Bar' events throughout Los Angeles, raising hundreds of thousands of dollars in the fight against Parkinson's and drawing out the Entertainment Industry elite for the cause.
Education
• AOS Degree in Culinary Arts and Sciences & Restaurant Management, Scottsdale Culinary Institute, Le Cordon Bleu
Phil's Thought Leadership
We are happy to announce the release of our newest quarterly magazine! The Financial Services Issue highlights
Los Angeles-based tax and accounting firm, KROST, recently brought on restaurant industry titan Chef Phil Kastel (co-creator
Ready to talk to one of our specialists?
Reach out to us today. Our highly experienced specialists will be happy to assist you.