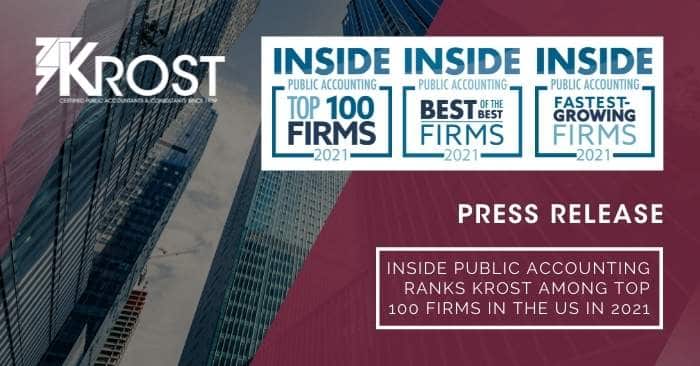 Pasadena, CA– INSIDE Public Accounting (IPA) named KROST CPAs & Consultants Top 100 Firm, Top 100 Fastest-Growing Organic Growth Firm, Top 100 Fastest-Growing All Growth, and best of the best in 2021. The firm placed 81st on the prestigious top 100 list, a substantial leap from 116th in 2020. KROST along with other recipients of these distinguished awards will be highlighted in the August and September issues of IPA's monthly newsletter.
"Our firm has continuously strived to provide value-add services for our clients. This last year, we added new service lines, including Employee Retention Tax Credit (ERTC), PPP Loan Assistance, KROST Business Intelligence Solutions (Data Analytics), Environmental, Social, and Governance (ESG) Reporting, and Consulting, and Client Accounting Services (CAS). The PPP and ERTC services were life-changing for many of our clients – they truly have appreciated our initiative in helping them through the pandemic by providing tools and resources needed to take advantage of government subsidies. In looking back, not only for this last year but the last several years, we attribute all of our growth to our amazing people.  We hope to build upon our past success and create new opportunities for all of our team members in the future." said Greg Kniss, Managing Principal.
IPA is a highly regarded independent publication that produces one of the most comprehensive benchmarking reports in the profession. The independent and confidential report is a valuable tool to improve firm management, which is why firms across the country trust IPA with detailed financial information annually. This is IPA's 29th annual independent ranking of top firms in the nation and is one of the highest honors in the industry today. Over 70 metrics are analyzed from more than 550 accounting firms across the nation to tally the results.
Learn more about our new services. »
View INSIDE Public Accounting's 2021 Top 100 Rankings »
View INSIDE Public Accounting's 2021 Best of the Best Rankings »
For more information about KROST's awards and recognition, visit KROSTCPAs.com/awards
ABOUT KROST CPAS & CONSULTANTS
KROST is a full-service Certified Public Accounting and Consulting firm headquartered in Pasadena, California. As trusted advisors and industry leaders, clients depend on KROST for timely information, innovative solutions, and results-driven teamwork in the areas of accounting, assurance, business management, consulting, tax, mergers and acquisitions, and wealth management.