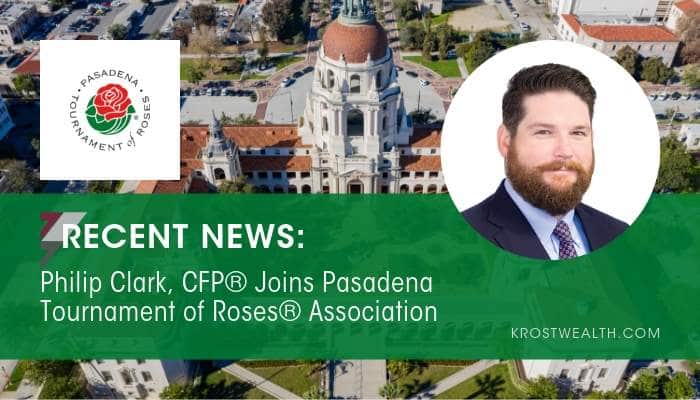 Our Wealth Management Director Philip Clark, CFP®, recently joined the Pasadena Tournament of Roses® Association, which hosts the Rose Parade and Rose Bowl football game every New Year's Day in Pasadena, California. As one of 66 new members the association welcomed this year, Phil will contribute to the planning of this century-old tradition. KROST's Principal Jason Melillo is also on the association, having donated his time since 1991.
"It's America's New Year Celebration, a greeting to the world on the first day of the year, and a salute to the community spirit and love of pageantry that have thrived in Pasadena for more than a century." – Pasadena Tournament of Roses®
As a division of KROST, KROST Wealth offers an integrated, tax-centric approach to wealth management. The process involves the development of a strategic financial plan that supports life's major events such as starting a family, education planning, buying a home, investing, and retirement. Advisors provide quarterly or annual performance reviews, financial plan monitoring, and support during major life, financial, or economic changes.