The restaurant industry has never experienced what we are going through right now. I spend all my time consulting with responsible operators to figure out how to continue operations, keep staff and guests safe, and maintain cash flow. Hundreds of meetings have the same theme: we will fight and do whatever is necessary to keep operating at some level and keep our staff and guests protected. Of course, the tricky part is figuring out how to avoid huge losses while we process through this modified operating scheme.
Our industry won't be back to any semblance of normal until June of 2021. This statement takes in a lot of different metrics, including how deep of a hole we get into, when a vaccine becomes available, and when we get back to a normal entertainment and travel scenario. Operating in this environment is difficult and requires us to view restaurant ownership as an entirely different business, one that requires a great deal of operational, financial, and goal-oriented planning. Planning how you navigate through this time depends on your ability to let go of what you did in the past and reimagine what your operations can create in this new environment. I hear operators comment on how futile it feels doing projections or budgets in this situation where so many things are unknown or unpredictable. The answer to that comment is simple: nothing happens without a plan.
The core mandate in the restaurant industry has always been creating an environment that excels in food, beverage, and service. We are now being asked to perform a model that isn't what we normally do. Restaurants that had a good percentage of to go, curbside pick up, or drop off are hanging in there. For restaurants with access to big outdoor spaces, they have pivoted and figured out how to achieve some percentage of normal sales. Others are either closed or are engaged in an operation they have never run before and are trying to break even.
Trying to engage guests positively and deliver our best product safely and responsibly is the whole ball game right now. But the product is different, staff training and protocols are different, management styles and procedures are different, and most importantly, the experience is vastly different from what guests are accustom.
Where Do We Go From Here?
Go back to the beginning, treat this new operating module, almost like a restaurant opening. Reset the service and management training to mirror what the expectation is for the new model. The reset of expectations needs to be clear to both the staff and the guest. Since we can no longer provide the type of service we previously could, we need to clearly communicate the expectations to both internal and external partners. Meet with your staff and management frequently. What are their challenges, where do they need support and direction? Address these issues as quickly as possible and tweak things every day if necessary, to ensure that the staff feels understood and supported.
The Guest Experience
Ahhh, the guest. It is horrible out there right now. Guests do not recognize that the service and product they are receiving has no connection to what they have experienced in the past. As we all know, this is due to the health department guidelines for social distancing and safety, the ability to hire workers, the need to operate with fewer employees and meet the unique demands placed upon our industry in this environment. Guests still expect to be serviced at a level that no longer exists.
They have their own challenges as well; this is a stressful and difficult time for everyone, including the guests. Our staff needs to recognize this and be as empathetic as possible. While our staff is risking exposure at work, so are our guests by making the decision to visit and enjoy our restaurants. We need to be as transparent as possible and reassure our guests with confidence that we are doing everything possible to ensure their safety and experience. Address this with staff and particularly with management. Teach them how to diffuse a guest situation through communication and compassion.
We Can't Let this Happen
Last week in Florida, a guest who got caught up in a huge line at a Burger King drive-through line and had paid for the order, went insane. She exited her vehicle, walked up to the drive-thru window, and went after the employee at the window. He didn't know what to do, so he offered to refund her money and cancel her order because she didn't want to wait to get the food. The best thing about this scenario is that she couldn't get out of the drive-thru lane, so she had to wait- steaming the whole time until everyone else processed through. She headed home, without her food, then her husband went insane.
He got into his vehicle, drove back to the Burger King, went into the inside operation, and went after another employee who had no idea what was going on. He attacked the employee and tried to choke him when he didn't get the answers he wanted. Other guests stepped in and separated the attacker from the employee and forced him out of the building. The employee again had no idea what to do, as he was not trained for all this craziness.
That employee's name was Desmond Armound Joshua, Jr., and he had just started working at Burger King. A twenty-two-year-old who was willing to take a position as an essential worker, jeopardizing his and his family's health to take a minimum wage job during the COVID pandemic.
A half-hour later, Desmond was dead. The attacker went out to his car and got a firearm and shot him.
The Guest Isn't Always Right
We have an extraordinary responsibility in front of us, and it starts with protecting our employees first, including their health and safety. The old adage,"the guest is always right" doesn't work during this time. Restaurant workers have never gotten the respect they are due from a huge number of guests, so now you have to demand that they do. You must have leadership in management that can step in and manage these situations to protect your staff.
If you can't do it, it's pretty simple – don't open your restaurant. Do us all a favor and sit this one out. I know that's a painful decision. But at the end of the day, if you can't protect your employees in this environment, you shouldn't be trying to stay open. Don't be lulled into using PPP money and getting your forgiveness maximized- manage your business as best you can. The real forgiveness you should be working to achieve is from all the staff who are working for you in jeopardy every day. The restaurant industry will get through this, we will get back to some kind of normal and look back at this as the greatest challenge we have ever faced, but we will get through it. There will be a great deal of fall out, the estimates today are that 1 in 4 restaurants will never reopen. If you have reopened, you need to be 100% transparent with staff and guests on what the expectation is and be supportive of both staff and guests to manage that expectation.
---
About the Author
Jean Hagan, Principal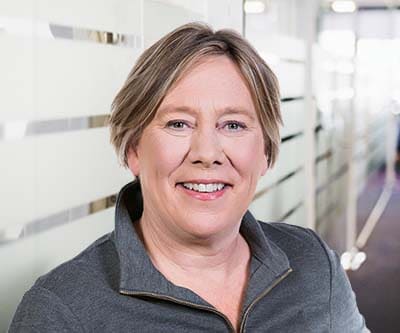 Restaurant, Hospitality
Jean has owned, operated, and consulted in the restaurant industry for more than 30 years. During that time, she worked with a well-known national chain; owned a food and beverage company that operated multiple restaurants, bars, and event spaces in the Squaw Valley area; and became the president, CEO, CFO, and shareholder of one of the highest-grossing restaurants in California. Today, Jean is Principal and leads the Restaurant Operations Consulting practice at KROST. » Full Bio