With 2020 in the history books, many restauranteurs are looking at similar uncertainties in 2021 that the industry has been hurdling for the last nine months. Information is flying at us at near lightspeed, and it is easy to lose sight of the opportunities that lie within the voluminous pages of new legislation. However, one of those opportunities that will be vital to how you position your business is the COVID-19 vaccine.
The Centers for Disease Control and Prevention recently released a presentation recommending restaurant and foodservice workers be included in the third wave of vaccinations, termed 1C. 1A includes essential frontline workers and long-term care residents, while 1B includes people over the age of 75 and critical workers in high-risk settings, teachers, and grocery store employees. While that seems like a lot of folks to vaccinate prior to getting to the hospitality industry, now is the time to craft your policy and carefully consider the right course of action for your employees and your business.
Guest safety is one of the most important factors people now consider when determining which restaurants to patronize. The first step to ease guest concerns in the COVID-era is to ensure that you are following all safety guidelines from the CDC and your local jurisdiction. When guests see your restaurant is taking the pandemic seriously and protecting the safety of your staff and guests alike, it inspires a level of comfort that can turn a first-time guest into a regular with just one visit. Conversely, if a guest feels unsafe in your restaurant or perceives that you are taking a lackadaisical approach to prevention, they will avoid it like well, COVID!
So, let's assume that you follow all of your local guidelines, execute great food and beverage, and go above and beyond with your cleaning and sanitation steps. What else can you do to inspire guest confidence? The federal government is taking steps to provide you with another option: mandating COVID-19 vaccinations for your employees. Based on guidance from the U.S. Equal Employment Opportunity Commission (EEOC), employers are allowed to require COVID vaccinations. Additionally, they can ban employees from the workplace if they decide to opt-out of the vaccination. Although immediate concerns arise around the ADA regulations that limit what an employer can require regarding medical examinations, the EEOC does not designate the vaccine as a medical exam because it does not require information about current health status, impairments, or other discriminatory factors.
How will you handle employees that want to opt-out due to disabilities or religious beliefs? Our trusted Labor and Employment Law resource, Jesse Caryl of Bent Caryl & Kroll, LLP, shares his thoughts on how to address these concerns and what sort of recourse you have under the new EEOC provisions:
As we have already seen, the COVID-19 vaccine has been met with a level of skepticism, and getting employees to buy into the vaccination policy will be an important step in the smooth transition from a non-vaccinated workplace to a vaccinated workplace.  This step begins with reminding employees that the vaccination is certainly for their own protection and for the safety of their family members, co-workers, and the community at large.  While the vaccine may be mandated by the employer, employees should also be reminded that vaccination also helps ensure the restaurant can remain open by significantly decreasing the chances for a COVID-19 outbreak, which in turn could close the business for weeks on end.  To further boost employee buy-in, we highly recommend the restaurant pay for the vaccinations and ideally schedule on-site administration to increase the likelihood all employees will choose to be vaccinated.  An on-site administration controlled by the employer will also minimize the risk of Labor Code issues for employee compensation and the reimbursement of business-related expenses for obtaining the vaccination.
Once your COVID vaccination policy is reviewed by your Labor and Employment attorney, you need to memorialize it in your Employee Handbook or other standalone policy and ensure it is issued to all your current employees. Regarding timeliness, this step is going to be the easiest to execute while your staff is reduced. This positions you to onboard or re-hire under your new policy as we anticipate a business increase when dining restrictions are loosened across the industry.  Even though the vaccine may not be immediately available, we feel that updating the terms of employment for when it is available is critical.
Having your entire team vaccinated will not only ease the safety concerns of your guests, but it will make it much easier for you to manage your employees. As many have experienced already, having a restaurant employee test positive for COVID sets off a chain reaction that will cost you money for cleaning, sanitation, and employee paid time off, negatively impact the morale of your staff, and potentially do irreparable damage to your brand if handled incorrectly. Additionally, the risk of an employee contracting COVID outside of work can create scheduling issues, a dangerously murky HR situation, and the opportunity for employees to take advantage of the "I was potentially exposed to COVID" excuse to get out of their scheduled shifts.
In short, "our entire staff has received the COVID-19 vaccination" is going to be the clearest and effective way to communicate to your guests that you are prioritizing the safety of everybody that enters your business. Please reach out to KROST Restaurant Accountants & Consultants, your Labor and Employment attorney, or Jesse Caryl (jcaryl@bcklegal.com) if you need guidance on how to craft and implement your COVID-19 Vaccination Policy.
---
Jean Hagan, Principal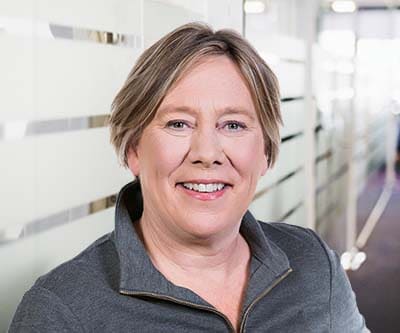 Restaurant, Hospitality
Jean has owned, operated, and consulted in the restaurant industry for more than 30 years. During that time, she worked with a well-known national chain; owned a food and beverage company that operated multiple restaurants, bars, and event spaces in the Squaw Valley area; and became the president, CEO, CFO, and shareholder of one of the highest-grossing restaurants in California. Today, Jean is Principal and leads the Restaurant Operations Consulting practice at KROST. » Full Bio