Mary Sue Milliken has been an influence on the Los Angeles Chef and restaurant scene since the early eighties. Co-founder of the beloved City Café in the early eighties and the Border Grill restaurant group in the mid-eighties, Milliken has been a part of the culinary rebirth of Los Angeles. A cookbook author and TV personality she is also a committed fundraiser for many different groups including Share Our Strength. Get to know Mary Sue Milliken one-on-one with Jean Hagan's interview with her:
Mary Sue, thanks so much for taking a few minutes to visit with us. It's a very busy time for you right now – can you catch us up with what's going on with Border Grill.
After searching for several years in Vegas we found a fabulous home for a second Border Grill in Caesars forum shops. We love Vegas – we have the privilege of working with an incredible team – some of the most professional BOH and FOH staff and now we can grow with them.
Last fall we opened Border Grill at LAX in the International terminal and soon we will be bringing Border Grill Truck to terminal 4. We love serving travelers fresh salads, tacos, quesadillas, ceviches, tortas and of course our signature margaritas before their long-haul flights in the gorgeous, state-of-the-art Tom Bradley Terminal.
We also launched with Amazon Fresh – so even when you are too busy to visit one of our restaurants, you can order a quesadilla or taco kit to put together with your family for dinner.
We recently opened for Brunch in our downtown Border Grill with a variety of Mexican inspired dishes served dim sum style with unlimited small plates so our guests can try lots of different dishes. My favorites are the guava cheese empanadas, machaca chilaquiles, and skirt steak and eggs.
You have been very active with sustainable food issues, why is it important to you? How would you recommend other Chefs or restaurateurs start to practice sustainable menu's?
I got drawn into cooking because I love science. After my kids were born I started paying more attention to how food is handled and grown; it's purity. I wanted to offer only the best to my kids and my customers, too. In learning some of the science about seafood supplies, antibiotics, and hormones in our meat and poultry, trans fats, organic, non-GMO. To avoid being daunted by the undertaking we take it one step at a time and spread our goals over time. I find that our staff becomes more excited and committed to their jobs because of our companies' leadership in making sustainable choices. That attracts like-minded employees and staff retention is better. There is always more to be done. We are currently on the search for non-GMO corn and masa for our chips and hope to tackle that in 2014.
Share our Strength is another cause that you do a lot of work with, how did you get involved and how can other restaurateurs get involved?
SOS is definitely a charity that is near and dear to my heart. When I was a struggling up and coming chef, I wanted to reach out into the community and give back but of course I had no money. Share Our Strength is built on the idea that everyone has a strength to share and was very strategic and progressive when they recognized that chefs were a big draw for fundraisers. It is especially disturbing to chefs to realize that 1 in 6 children in the U.S. is experiencing hunger. After several fundraisers and events, I became an active board member and the experience has been deeply rewarding for me. Share our Strength is great because it connects children with nutritious food, education and a chance to thrive as members of our society. I think there is nothing more important than investing in a hunger-free generation.
There are many ways to get involved; SOS offers lots of opportunities from Taste of the Nation to Dine out in September. There are also many opportunities to volunteer, for example, there is a fantastic program, called Cooking Matters, where we teach low-income families, single parents, teens, etc. how to grocery shop and cook for themselves.
With all your work with Border Grill and the different areas of charity work you do, what do you do when if ever you have time off?
Travel to the ends of the earth! In the past few years, I've been to Egypt, Mongolia, Scotland, Turkey, Croatia, Peru. I have an allergy to hotels so I always rent a house where I can cook and relax. I find that it is really important for me to take complete breaks in order to really be focused and highly functioning when I am at work.
What's the most exciting trend you have seen recently in the restaurant business?
I think the most exciting trend is a look at reducing waste (and waist size, too!). There is a very real need to look at portion sizes and flexible menus. I see a lot of chefs and restaurants using the whole plant or animal – pig cheeks, jowel, chard stems, beet greens, and in general respecting the resources (water, labor, transportation) that it takes to get food to the table. Soon, people will be talking about waste the way they currently talk about carbon footprint.
I also see a lot more women taking leadership roles in restaurants – which I love. When there is a balance of men and women at all levels in the workplace, it feels best to me.
What advice would you give a Chef coming out of culinary school today?
I would say have patience and remember that perfecting your skills by repetition – making dishes over and over again and noticing exactly what makes them outstanding or less than perfect – that's what this craft is about. Making something good, and then moving on to the next is not always the best approach. I think what the next generation of chefs is forgetting is to really embrace repetition. Don't underestimate experience – it's an investment worth making.
Where is your favorite vacation spot when you can get time off? Why?
Anywhere that doesn't have a cell signal where I can eat well and go on long hikes and adventures, see art and learn about different cultures.
Do you ever get to actually go out to dinner? Where have you gone recently that you enjoyed?
I love to go out for Japanese or Korean, Vietnamese. I recently had a great Thai meal at Night + Market. I love Pho 87 downtown and K-ZO in Culver City is my go-to sushi place for their incredible Octopus sashimi. I love Korean of any kind: BBQ at Park's and Manpuku, Beverly Soon Tofu, etc.
What is your favorite piece of kitchen equipment?
I love my ceramic ginger grater and my 30-year-old osterizer blender that does an incredible job. Oh and my Zojirushi rice cooker with a titanium bowl and fuzzy logic.
Mary Sue Milliken
---
About the Author
Jean Hagan, Principal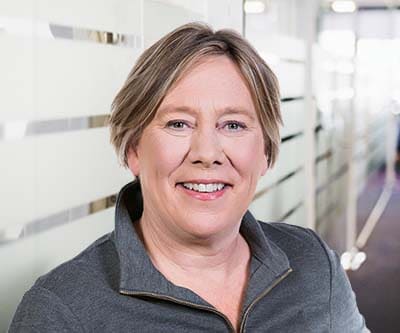 Restaurant, Hospitality
Jean has owned, operated, and consulted in the restaurant industry for more than 30 years. During that time, she worked with a well-known national chain; owned a food and beverage company that operated multiple restaurants, bars, and event spaces in the Squaw Valley area; and became the president, CEO, CFO, and shareholder of one of the highest-grossing restaurants in California. Today, Jean is Principal and leads the Restaurant Operations Consulting practice at KROST. » Full Bio