On April 9th in Sacramento, hundreds of restaurant operators, industry supporters, Legislators and Capitol staffers convened to celebrate the strength of the industry at the CRA's second annual Rock'n Restaurants event at the Crest Theatre in Sacramento. The concert event capped off Lobby Day 2013, which involved dozens of operators convening to discuss hot legislative issues and meeting with their representatives at the Capitol.
Specifically, operators discussed AB 10 (Alejo), a minimum wage indexing bill opposed by the CRA, which seeks to raise the minimum wage to $9.25 per hour over three years, followed by auto-pilot increases according to the California Consumer Price Index.
Another bill important to the industry and supported by the CRA is AB 227 (Gatto), which is designed to give businesses 14 days notice to fix a violation of Proposition 65 to mitigate the rise in damaging and frivolous lawsuits.
Restaurateur and celebrity television personality Guy Fieri made a surprise appearance at Lobby Day, stopping in to encourage participants to use their voice and try to make real connections when speaking to lawmakers.
"Share your piece with them – engage them, celebrate them, encourage them," Fieri said. "I look at the kinds of connections I've made with Jot and my family with CRA and the variety of people (in the Capitol) that have made impacts in my later work. This is your right to go tell your leaders what you want and what you need."
"We're facing a very ill-timed wage increase. It's not because we don't want people to be successful in our state, but if you have a mom-and-pop joint where this is going to bury you, I think your leadership should be aware of that. When you start to tell your story, those are the kinds of things that will make an impact."
Lobby Day also included an entertaining keynote speech on the California political and economic landscape by Greg Lucas, a political writer, and satirist, as well as a consumer survey presentation by Chris St. Hilaire, president and CEO of MFour Mobile Research.
In the evening, Lobby Day participants joined other attendees for Rock 'n Restaurants, which was presented in partnership with Broadcast Music Inc. A cocktail reception preceded the concert and an after party at KBar. In all, the event raised more than $62,100 for the CRA Issues Political Action Committee.
###
KROST proudly sponsored the California Restaurant Association (CRA) annual Rock'n Restaurants concert In Sacramento. Greg Kniss and Jean Hagan were excited to be a part of Lobby Day 2013.
---
About the Author
Jean Hagan, Principal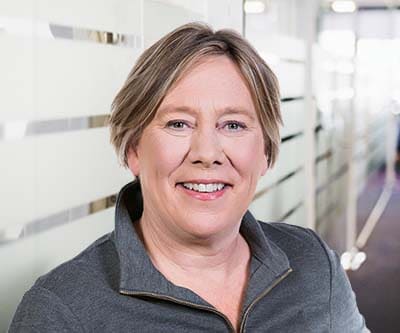 Restaurant, Hospitality
Jean has owned, operated, and consulted in the restaurant industry for more than 30 years. During that time, she worked with a well-known national chain; owned a food and beverage company that operated multiple restaurants, bars, and event spaces in the Squaw Valley area; and became the president, CEO, CFO, and shareholder of one of the highest-grossing restaurants in California. Today, Jean is Principal and leads the Restaurant Operations Consulting practice at KROST. » Full Bio