Our data analytics consulting service is for the business owner that is ready to solve problems with their data, but doesn't know where to start. We navigate through the data complexity and translate it into a simplified process that you can implement into your business.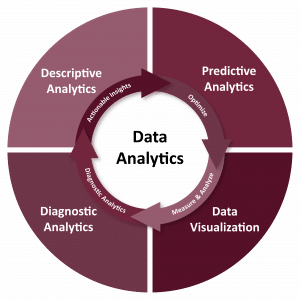 6 Steps to Better Data Analytics

PLAN
Complete our get to know you questionnaire
DATA CLEANSING
We identify the data that needs to be cleaned and where applicable cleanse the data to be ready to use within structured datasets
IDENTIFY YOUR DATA ANALYTIC MODEL
Our team of experts will work with you to identify the problems that need to be solved and present to you data analytic options
CONFIGURE
We write the formulas and algorithms so that you can visualize the key performance indicators
ANALYZE AND PREPARE ACTIONABLE INSIGHTS
Our team of experts prepare the actionable insights and measure its potential impact on your business

PRESENT FINDINGS AND RECOMMENDATIONS
We present and provide you with tangible findings and recommendations
Types of Available Data Analytic Models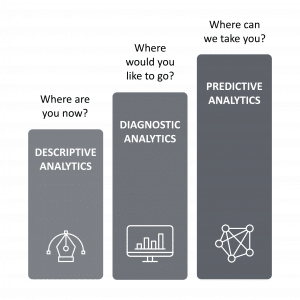 What are Key Performance Indicators?
Key performance indicators or KPIs are financial metrics that are relevant to the health of your business. Our Data Analytics services explore the different KPIs that are relevant to your business and allow you to select what is the most meaningful to your business needs.
What is Data Analytics and Common Misconceptions?
Data Analytics is both complicated and not complicated. The purpose of data analytics is to provide your business with actionable insights, but this requires data.
Common misconceptions include applying data analytic models without any company data. Data Analytics requires data. Generally, a company can't start at predictive data analytics without creating a foundation of what happened and why it happened. We always advise our clients to ensure they have both Descriptive and Diagnostic Data Analytics before moving into more complex solutions.
How frequently should data analytics be performed?
Our data analytics service can be done daily (check out our KBI), monthly, quarterly, annually, or at your leisure. Actionable insights are based on your business' ability to collect, aggregate data.
We recommend that data analytics be performed as frequently as you are able to gather and collect the data. Want to combine your data analytics with financial reporting? Check out our Compilations Services.
I'm doing data analytics now, why do I need consulting?
We commend you on already starting your data analytics journey! Our data analytics models are designed to help businesses just starting their journey into data analytics as well as businesses that are looking for more actionable insights to optimize performance with their current data analytics solutions.
Waterfall Calculations
Our distribution waterfall calculation advisory service is for the asset manager, developer, or business owner that needs to ensure accurate calculations. Whether you call it carried interest, promote, performance returns, or waterfall distribution, there is a complexity to translate the OA or LPA.
We collaborate with you to understand every significant detail necessary to perform the calculation. Afterward, we build a waterfall distribution model and test it to ensure accuracy. Our services can be scaled up or down to ensure we are meeting your needs.
Why KROST?
Our firm continuously delivers services that were only available to the S&P 500 and made them accessible and impactful to emerging and middle-market companies. Our team enjoys working with complex concepts and translating them to help clients make better business decisions. Our focus has always been to provide our clients with a value-added experience through our collaborative partnership and proactive communication.