What is KROST Business Intelligence (KBI)?
KROST Business Intelligence is a cloud-based data solutions platform that can translate unstructured, impossible-to-read data into structured, real-time insights. This information can be leveraged to improve realization, staff utilization, project turnaround, and more. Each dashboard is curated with your unique goals in mind and can be customized to fit your needs.
What if you could take all of your software programs' data, remove the clutter, reduce administrative time, and synthesize it all into one easy to interpret tool? Say goodbye to the days of thousand-lined spreadsheets full of incomprehensible data. Our sophisticated platform was designed specifically for middle-market businesses to translate all of your information into dynamic reports, no painful Macros necessary.
Why Choose KBI?
If you are not leveraging data analytics for your business, then you are missing hidden opportunities to take complex financial information and turn it into actionable change to improve your bottom line. With KBI, get the insights you need while saving time and cutting through the data clutter. Ready to get access to real-time key performance metrics and more? Contact us today.
Our team simplify the complex by implementing KROST Fund Admin Solutions for our Private Equity / Venture Capital clients so that they receive reliable and timely financial information through a tech forward, streamlined experience. With our custom-built automation software, clients can analyze key performance indicators without spending hundreds of hours compiling information across multiple reporting systems. Our services are intended for Fund Managers that want to simplify their accounting and financial reporting processes.
Discover how we can help you by visiting our Fund Admin Solutions webpage.
Here's How It Works
We transform unstructured data into useable, structured data analytics.
Get a Free Download of Our KBI One Pager





Cloud-based dashboard to view KBI anywhere
Data pulled across various software platforms into one easy to view location
Real time and automated key perfomance metrics
Dynamic analytic solutions supported by industry experts
KBI's Six Steps to Better Reporting

PLAN
Complete our get to know you questionnaire
ARCHITECT
Select the KBI solution that's right for you
CONFIGURE
We clean and connect the data to create working operational data sets
PROTOTYPE
We prepare the automated metrics and your KBI dashboard
TEST
You will review your KBI with one of our experts

LAUNCH
Our team of experts will review your available data and metrics and provide recommendations
Discover Our Solutions
KBI is a cloud-based data analytics tool that allows you to automate key performance indicators by connecting to your existing data. Have the following reports available at your fingertips in real-time:
PROJECT MANAGEMENT
• Actual vs Budget
• Outstanding WIP by project
• Project Turnaround
• Project Realization Rate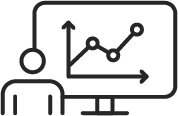 CLIENT MANAGEMENT
• Client Realization Rate
• Revenue Trend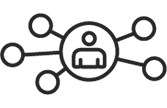 RESOURCE MANAGEMENT
• Staff Utilization Rate
• Staff Realization Rate


KBI users can customize the time periods for each of these metrics.