Outsourced Accounting
Outsourced accounting services can be a cost-effective way to have high-level financial reporting without having to hire a team Certified Public Accountants and accounting professionals. Outsourced accounting will allow you to focus on business growth, while we will provide the financial data you need. We will provide analysis and details regarding the management of cash and reporting to help you manage your business at a glance.
Connect with our Accounting Experts
Questions in regards to accounting? Our dynamic team of experts are here to help. Contact us today to schedule an appointment.
Why Choose KROST?
Here at KROST, we understand your business and the challenges you face in the current landscape. That is why we use a combination of strong teamwork, communication, technology and professional skill to help you with all your accounting needs.
---
Why We Do What We Do
We do what we do because we understand that businesses have needs that can be difficult to meet with internal resources and expertise and that this often requires advice and guidance from trusted external sources.
How We Do What We Do
We pride ourselves on maintaining close client connections, being proactive on client needs and fostering and developing talented professionals who take pride in being a trusted resource and in providing high-quality service. We place a strong emphasis on fostering a long-term relationship with owners and all levels of management.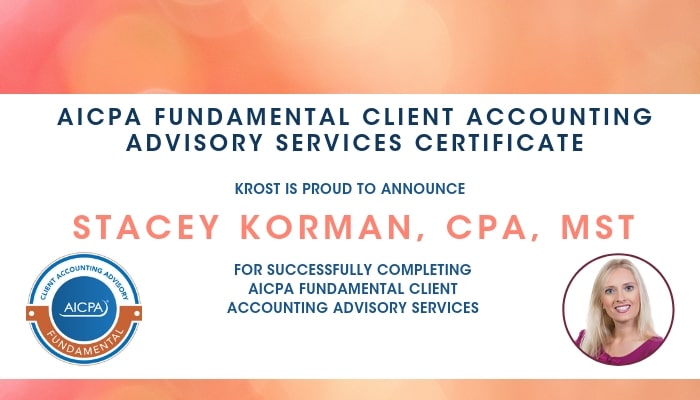 Our Accounting Director, Stacey R. Korman, CPA, MST, recently earned a certificate in AICPA's Client Accounting Advisory Services course. We had the chance to sit down with Stacey to hear her experience. Q: What is Client Accounting and Advisory Services (CAAS)? Client Accounting and Advisory Services (CAAS) is a certificate program that has been developed … Read More