PPP Forgiveness Application Review Service for Lenders
To assist lenders process applications for PPP loan forgiveness that they have received from their borrowers, KROST is providing a PPP Forgiveness Application Review Service. This will be undertaken as an Agreed-Upon Procedures service that will consist of:
Reviewing the supporting documentation provided by the borrower
Ensuring that the borrower has followed the SBA's rules for forgiveness including the rules for safe harbor
Reviewing the calculations made by the borrower regarding eligible expenses, full- time equivalent employees, and salary/hourly wage reductions
Independently calculating the computed values that are part of the forgiveness application and comparing it to the borrowers
Independently calculating the forgiveness amount
Preparing and delivering an Agreed-Upon Procedures report, showing any discrepancies and errors with the borrower's application, including the forgiveness amount
Why Hire KROST to Review Forgiveness Applications?
Since the CARES Act passed into law in March, there have been new laws, multiple rule publications, and over 50 FAQs released by the SBA. KROST's subject matter experts have kept up to date with these changes to ensure that its clients are abiding by these rules. These same subject matter experts will provide the Forgiveness Application Review Service.
KROST has also developed a PPP Budgeting, Tracking and Optimization Tool, used by more than 250 institutions, that tracks these expenses on an ongoing basis, automatically calculates the forgivable amounts, and computes all the fields necessary for a forgiveness application
What is KROST's Track Record with PPP Loans?
To date, KROST's subject matter experts have assisted over 350 entities in obtaining and managing over $300 million in PPP and EIDL loans.
KROST has published more than 30 articles on the subject of government-backed loans and has hosted webinars attended by thousands of company executives and independent service providers.
Download a copy of our PPP Forgiveness Application Review Service for Lenders Handout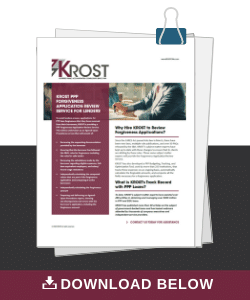 Connect with our PPP Loans Experts
Questions in regards to PPP loans? Our dynamic team of experts are here to help. Contact us today to schedule an appointment.