As tax deadlines are fast approaching, it is important to remember that the Surface Transportation and Veterans Health Care Choice Improvement Act of 2015 revised the due dates and extended due dates for certain returns. The changes are generally applicable for returns in those tax years beginning after December 31, 2015. California has confirmed some of these federal changes. Below is a summary of the revised due dates for 2016 tax returns, as well as a printable chart for future reference.
Filing Due Dates Chart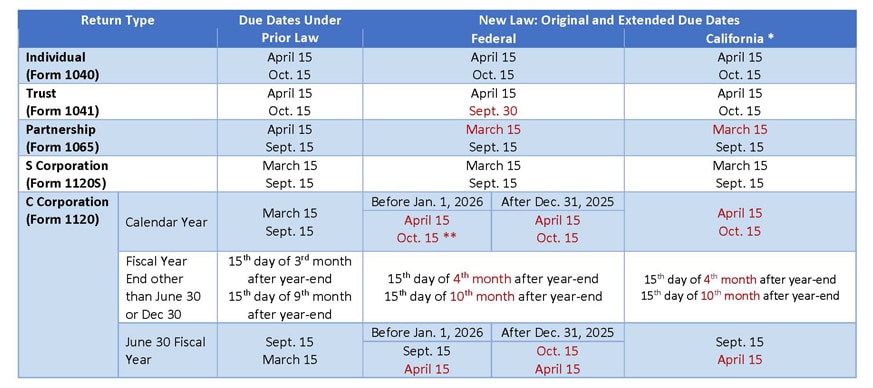 * For California purpose, due date of SMLLC follows the same due dates of its sole member.
** IRS has released an article on Feb. 8, 2017 stating that IRS is granting a 6-month automatic extension under Section 6081(a) to calendar C corporation instead of the 5-month automatic extension under Section 6081(b). Hence extended due date is revised from Sept. 15 to Oct. 15. For details, refer to https://www.irs.gov/uac/rda-2017-02-08-2016-form-7004
Please contact us if we can be of assistance with this or other tax planning matters.