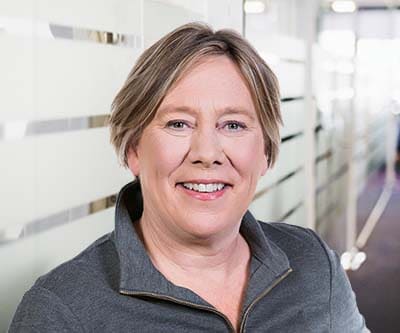 Jean Hagan
PRINCIPAL — RESTAURANT PRACTICE LEADER
Jean has owned, operated, and consulted in the restaurant industry for more than 30 years. During that time, she worked with a well-known national chain; owned a food and beverage company that operated multiple restaurants, bars, and event spaces in the Squaw Valley area; and became the president, CEO, CFO, and shareholder of one of the highest-grossing restaurants in California. Today Jean is Principal and leads the restaurant operations consulting practice at KROST.
Jean brings a unique skill set to our CPA firm. With her extensive industry experience, she consults with our clients at the store operations and strategic management levels. Jean's expertise and drive have helped us develop our consulting practice to include services such as P&L coaching, restaurant openings, systems automation, business management, sequence of service, check average analysis, management bonus structures, labor & related costs analysis, POS systems analysis, flash reporting implementation and analysis, and much more.
Professional Experience
KROST, Principal (January 2014 — Present)
KROST, Director of Restaurant Operations (2009 — 2013)
Gladstone's 4 Fish and Related, President, CEO, CFO, Board Member and Shareholder (2003 — 2009)
Hagan Management, Inc., Owner (1983 — 2001)
Victoria Station Restaurants, Bar Manager, Executive Kitchen Manager, General / Area Manager (1978 — 1983)
Education
Graduate studies in Post Harvest Physiology, Virginia Polytech—Blacksburg
Bachelor of Science in Horticulture, Delaware Valley College of Sciences
Professional Affiliations
Member of California Restaurant Association
Board Member of Los Angeles Chapter, California Restaurant Association
State Board Member of California Restaurant Association Foundation (CRAF)
Member of National Restaurant Association
Committee Member of Education Policy Committee, Culinary Institute of America
Member of Society of Fellows, Culinary Institute of America
Adjunct Professor of Culinary Institute of America
Guest Lecturer of Cal Poly Pomona, Culinary Institute of America, and UCLA
Extracurricular Activities
Rotary, person of the year (1998)
Jean's Thought Leadership
As restaurant operators struggle to find enough staff to maintain their operations, many owners are considering improving their benefits package as an incentive for employees. Benefits expansion is a challenging and always tricky strategy for restaurant operators. An organization needs to be certain that the perks provided are valuable to the employee group through surveys Read the full article…
Ready to talk to one of our specialists?
Reach out to us today. Our highly experienced specialists will be happy to assist you.