Scott Gilmore, CPA, MST
PRINCIPAL - TAX
Contributing to his client's success in any capacity necessary is what Scott Gilmore enjoys in his role as a trusted advisor. Scott takes a personal interest in each of his clients to ensure that their needs are being met at all times. With over 15 years of experience in public accounting, he takes pride in being a valuable member of each client's team. Scott believes in educating his clients, so they are always prepared when opportunity knocks.
Scott has niche experience in a handful of industries, including financial services (private equity, hedge funds, financing), professional services (attorneys, wealth advisors, agents, etc.), and the entertainment industry. In addition, he has a strong passion for real estate-centric clients and has extensive experience in the real estate industry, working with clients for the entire cycle of their real estate assets. Scott has specific knowledge in areas of section 1031 exchanges and complex structures that allow clients flexibility and opportunity surrounding their real property assets.
Scott has the pleasure of being able to say he has been the same group of professionals his entire career. Prior to joining KROST through a merger in January 2020, Scott enjoyed 15 years with BPE&H and its predecessor firms as his only employment direct from his undergraduate education.
Scott enjoys speaking to other CPAs and industry professionals on the topics of real estate as it relates to tax planning and, in particular, 1031 exchanges and cost segregation studies. When he is not helping his clients through their day-to-day business operations, Scott has a passion for mentoring and enjoys working with up-and-coming staff to help show them the rewards and experiences that being a CPA and trusted advisor can bring to one's career.
Education
• Bachelor of Science, Economics and Accounting, University of California, Los Angeles, 2004
• Masters of Science, Taxation, California State University, Northridge, 2008
Professional Affiliations
• Member of CalCPA
• Member of AICPA
• Member of Provisors (Woodland Hills)
• Member of the Exchange LA (Westlake Village chapter)
• Member of Highrise Networks (Westlake Village chapter)
Extracurricular Activities
• Westlake Baseball Association
• Southeast Ventura County YMCA Adventure Guides
• Jewish Business Leaders (JBL)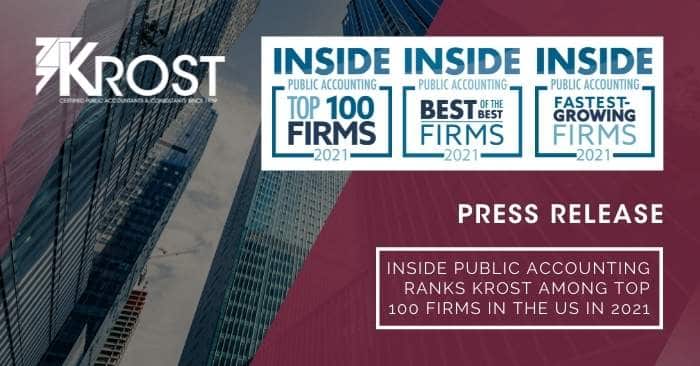 Pasadena, CA– INSIDE Public Accounting (IPA) named KROST CPAs & Consultants Top 100 Firm, Top 100 Fastest-Growing Organic Growth Firm, Top 100 Fastest-Growing All Growth, and best of the best in 2021. The firm placed 81st on the prestigious top 100 list, a substantial leap from 116th in 2020. KROST along with other recipients of Read the full article…
Ready to talk to one of our specialists?
Reach out to us today. Our highly experienced specialists will be happy to assist you.