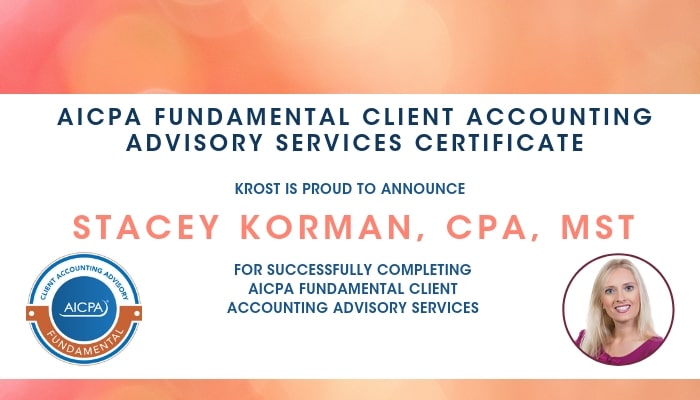 Our Principal, Stacey R. Korman, CPA, MST, earned a certificate in AICPA's Client Accounting Advisory Services course. We had the chance to sit down with Stacey to hear her experience.
Q: What is Client Accounting Services (CAS)?
Client Accounting Services (CAS) is a certificate program that has been developed by the AICPA. Accountants are considered the trusted advisor. The CAS model further advances this relationship between the client and the accountant. At KROST we work closely with our clients and this is an opportunity to further demonstrate that we are looking for ways to assist our clients as they continue to focus on growing their business.
Q: Can you summarize what the course was about?
CAS is a new spin on outsourced accounting. It is not just bookkeeping and write-up services. Instead, it is financial statement preparation, cash flow management, transaction processing, virtual CFO services, controllership, and business advisory. A CAS practice focuses on cloud-based technology solutions and becoming an expert in specific industries.
The accounting profession is changing and with that, we also need to adapt. The trend in accounting is that more clients are outsourcing accounting functions. As a CPA firm, we can provide a solution for our clients. We have a team of people that can provide timely data and offer best practices and industry-specific solutions.
Q: What made you decide to take the course?
This course provided a different way of thinking about the way we are currently offering accounting and bookkeeping services to clients. Instead of continuing with the usual method of providing information to clients after the fact, we will be able to give clients the opportunity to view their financial data in a timely manner.
Generally, accounting is an afterthought for some business owners as their focus is on the growth of their business. As an advisor to clients, I felt it would be important to find out what more we can do to help advise them.
Q: How is this different than bookkeeping or write-up services?
As a firm, our view of "bookkeeping" as part of our client services is evolving. We'll be leveraging today's leading technology solutions to change many of the manual, paper-intensive steps we complete now into a paperless, web-based workflow and document management process. As a firm, there will be opportunities to help our clients work more efficiently, get better information, and we'll be contributing to their success in very tangible ways. Clients will be able to work with us from anywhere and will have access to their information 24/7.
Q: What is the benefit of KROST CAS services vs. hiring someone in-house?
We work with a number of clients in this industry, which means we are exposed to many different situations and help our clients with a wide range of matters each day. That gives us an edge over internal hires, as we can see what is working well for companies in this industry, how companies are dealing with economic and other challenges most effectively, what technology solutions and workflow processes have really moved the company forward, etc. We also have a wide range of resources within our firm and through our professional relationships that may not be available to someone in-house. Finally, we are required to (and are committed to as a firm) staying current in the profession by meeting minimum continuing education requirements each year, we attend a range of industry and professional conferences, and we interact with other professionals servicing similar clients. All of these things combined make us a much more powerful resource than most in-house staff.
Many companies feel that they must hire a full-time person to get the high level of expertise they seek. This can be extremely costly or even beyond what a company can afford. Ultimately, companies settle for a lower skill-set to keep costs down or avoid hiring anyone at all. By retaining our firm, we can give access to all layers of accounting staff, in a scalable way, so that companies have the exact mix of expertise needed each step of the way.
» Learn more about our Client Accounting Services
---
About the Author
Stacey Korman, CPA, MST, Principal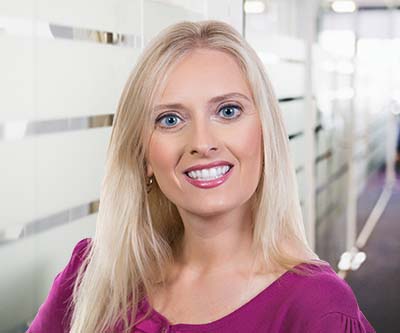 Accounting, Sports & Entertainment
Stacey Korman is the Accounting Principal at KROST. She is a key member of our advisory team and is a trusted consultant. Stacey has extensive experience in assurance, advisory, and accounting services, with an emphasis on middle-market companies and high net worth individuals. She has spent her career managing audits, reviews, and compilation engagements. » Full Bio