On March 11, 2023, the period to use the Restaurant Revitalization Fund (RRF) for eligible expenses incurred between February 15, 2020, and March 11, 2023, ended. The next step for grant forgiveness is to complete and submit a Restaurant Revitalization Fund Program Post Award Report (SBA Form 3173) by April 30, 2023, detailing how the expenses were used. The Small Business Association (SBA) may require supplemental documentation to make sure the funds were used in accordance with program guidelines.
Unlike other pandemic-related funds, any unused portion of the RRF grant must be repaid and cannot be converted into a loan.
Borrowers can return the unused portion of the RRF to the Small Business Association by completing Form SBA 1201.
The Step-by-Step
To return the unused Restaurant Revitalization Fund, please follow the steps below:
Enter your 10-digit SBA loan/grant number in the SBA Loan Number field
Enter the amount you are returning to the SBA in the Payment Amount field
Fill in your payment information
Review and Submit
Receive confirmation
Once the funds are returned, the entity will still need to complete the Restaurant Revitalization Fund Program Post Award Report (SBA Form 3173). On the post-award report, there is a line item to indicate the amount of funds returned to the SBA.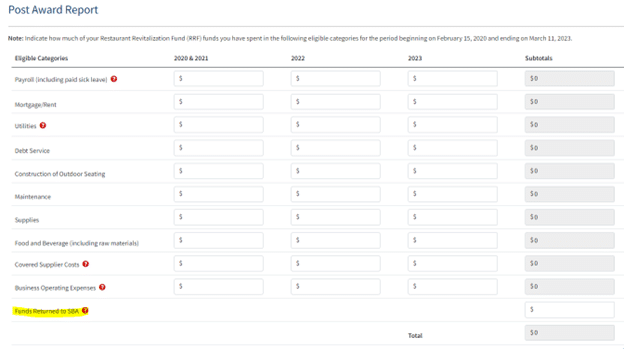 At KROST, we are more than just CPAs. We are restaurant consultants, business advisors, and advocates for your industry. We are committed to serving the foodservice industry by providing industry-specific services, valuable financial advice, and a comprehensive resource center for all your restaurant's needs. We were at the forefront with our clients at the beginning to help them apply, and now we are here to help make sure the funds are used correctly and to comply with the SBA standards. To date, KROST has assisted more than 350 entities in obtaining and managing over $1 Billion in PPP loans, EIDL loans, and RRF grants. We also saved our clients over $200 million with PPP forgiveness.
If you have any questions regarding the Restaurant Revitalization Fund and reporting requirements, don't hesitate to contact us for further guidance.
» Learn more about our Restaurant Revitalization Fund services
---
About the Author
Stacey Korman, CPA, MST, Principal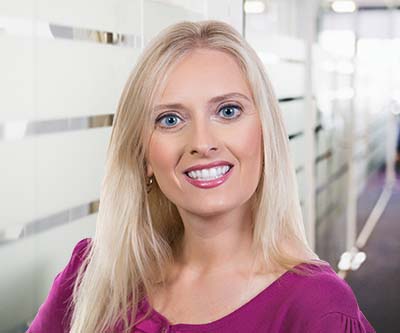 Accounting, Client Account Services (CAS)
Stacey Korman is the Accounting Principal at KROST. She is a key member of our advisory team and is a trusted consultant. Stacey has extensive experience in assurance, advisory, and accounting services, with an emphasis on middle-market companies and high-net-worth individuals. She has spent her career managing audits, reviews, and compilation engagements. » Full Bio